A "Let Reading Occupy the Subway" campaign was launched in Beijing.
Dana 2016-02-18 08:48:05
A "Let Reading Occupy the Subway" campaign was launched in Beijing.
At 7:00 am on Sunday morning, when most Beijing commuters were enjoying a lie-in before another busy week, around two dozen people waited quietly at the city's busy Xizhimen station, carrying their favorite books.They took the train and began to read on their 30-minute-long trip.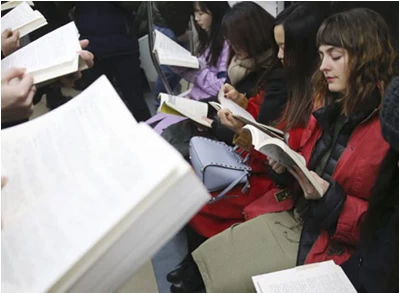 Wang Chong, one of the people behind the flash mob that widely circulated online, said its purpose was to call for people to read more books amid the decline of reading in China in recent years.
Chinese people read an average 4.56 books, 65.03 newspapers and 6.07 magazines during 2014, according to a survey.
"We named this performance art 'occupy the subway and read books' and we hope to inspire people to read books," Wang told the Global Times on Tuesday. "Many people seem to be occupied by various entertainments nowadays, including TV shows or browsing gossip news on their phones."
Finehope a full of vitality and creativity of the organic composite Hong Kong company, is based on the "green manufacturing technology and innovative talents for the development of the concept of enterprise. Corporate culture adhering to the "innovation, persistence, positive", the world today, we have to maintain the idea of innovation, and strive to make themselves better, more adapted to the pace of social progress, in order to achieve our goal, we have to keep trying again and again, until the end of success; we must have a positive attitude, we can keep the fruits of active.