With China poised to become the world's largest film market within the next couple of years
Dana 2016-02-19 08:52:35
With China poised to become the world's largest film market within the next couple of years
With China poised to become the world's largest film market within the next couple of years, industry insiders are weighing-in on what needs to be done to capitalize on the opportunity.
Most movie industry observers expect China will overtake the United States to become the world's largest film market, by revenue, by 2017. Last year, box office revenue in China hit a record high of nearly 7 billion U.S. dollars.
Greg Foster, CEO of IMAX Entertainment, says to some extent the Chinese market is the key to success for many US movies.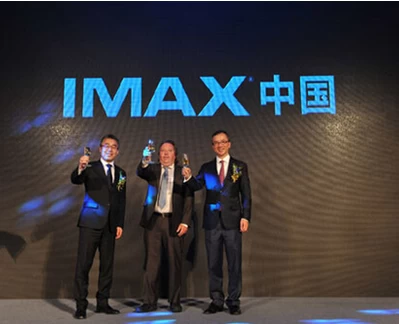 Lauren Selig, founder of Shake and Bake Productions, says an increasing number of movies are being made specifically for the Chinese market."Out of the 10 conversations that I've had with producers or foreign sales agents in the last two weeks, six of them have said bring me a project for China, I need a project for China."When it comes to tapping into the Chinese market, Selig says Hollywood needs to have a better understanding of what Chinese audiences want.
We're used to making big bang movies, big tentpole films and hoping that when we lob them across the pond that China goes: 'Yay, we like it.' But it doesn't always work out that way and I think it's important for a producer or director or someone who's inclined to make movies for the Chinese market to have a good partner over there or good voices to give them advice on what to make.
At the same time, Chinese movie producers are also trying to create content which global audiences are more likely to relate to.
Le Vision Pictures is one of a growing number of Chinese film companies looking globally.Le Vision CEO Zhang Zhao says "My guess is in the next five years because of the Chinese market booming, you will see many more movies released in North American market. Reason, because you got backed up by this huge market."Le Vision Pictures is behind the production of a film called "The Great Wall" starring Matt Damon and directed by Zhang Yimou.It's due out later this year.
Chinese investment in the North American film sector has already gone beyond movies.Dalian Wanda recently struck a deal to acquire a majority stake in US movie studio Legendary Entertainment.It's going to be Wanda's second big purchase in the United States.The company bought AMC, the second biggest theater chain in the United States, for more than 2.5 billion U.S. dollars in 2012.
Finehope a full of vitality and creativity of the organic composite Hong Kong company, is based on the "green manufacturing technology and innovative talents for the development of the concept of enterprise. Corporate culture adhering to the "innovation, persistence, positive", the world today, we have to maintain the idea of innovation, and strive to make themselves better, more adapted to the pace of social progress, in order to achieve our goal, we have to keep trying again and again, until the end of success; we must have a positive attitude, we can keep the fruits of active.
Related news:
---
---