A man buried in rubble after a landslide hit Shenzhen in China has been pulled out alive
Dana 2015-12-25 13:12:28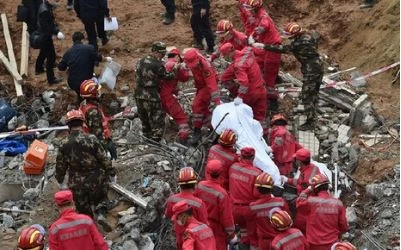 A man buried in rubble after a landslide hit Shenzhen in China has been pulled out alive

A man buried in rubble for more than 60 hours after a landslide hit Shenzhen in China has been pulled out alive, state media says.
The landslide, which struck early on Sunday, engulfed more than 30 buildings in an industrial district. At least one person is dead and more than 70 people are missing. Thousands of people have been involved in the rescue efforts.
The 19-year-old survivor was found at 03:30 local time on Wednesday (19:30 GMT Tuesday) under a collapsed building and is now receiving medical treatment, reported state news agency Xinhua.
The landslide eventually blanketed a vast area of 380,000 sqm (455,000 sq yards) - the equivalent of about 50 football fields. Some areas were covered with up to 10m (32ft) of mud.
The Ministry of Land and Resources said a mountain of earth and construction waste had been piled up against the local hill during the past two years.
Local resident Yi Jimin agreed the disaster was not an act of nature."Heavy rains and a collapse of a mountain are natural disasters, but this wasn't a natural disaster, this was man-made," he said.
Finehope a full of vitality and creativity of the organic composite Hong Kong company, is based on the "green manufacturing technology and innovative talents for the development of the concept of enterprise. Corporate culture adhering to the "innovation, persistence, positive", the world today, we have to maintain the idea of innovation, and strive to make themselves better, more adapted to the pace of social progress, in order to achieve our goal, we have to keep trying again and again, until the end of success; we must have a positive attitude, we can keep the fruits of active.