With this mechanical friend, you'll never have to drink alone!
Dana 2016-01-22 15:34:27
With this mechanical friend, you'll never have to drink alone!
With this mechanical friend, you'll never have to drink alone!
Some creative visionaries harness the power of technology to help people work more efficiently or to stay connected with friends and family in different parts of the world. Eunchan Park, however, had a different goal in mind. The South Korean inventor wanted to put his robotics knowhow to use in making alcoholic beverages taste better.
And thus was born Park's robotic drinking buddy, who's appropriately named Drinky.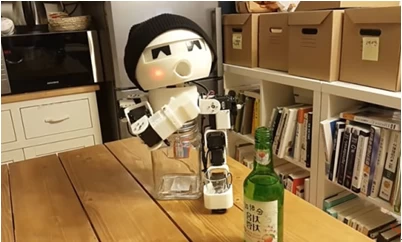 The inspiration for Drinky came during a dateless Christmas which Park spent with a bottle of soju (the traditional Korean alcohol called shochu in Japan). During his solo drinking session, Park decided, on a whim, to pour a second glass and place it in front of himself, as though he were drinking with a friend. He found that doing so improved not only the atmosphere in the room, but also how he perceived the soju's flavor, and figured that even more benefits could be reaped with a robotic companion.
Drinky's operation is as straightforward as his name. Simply pour him a drink and he'll jovially clink glasses with you, before downing the liquid in a single manly gulp.
Since no one likes drinking with someone who's reactionless or otherwise morose, Drinky finishes off each shot by flashing a thumbs up as his cheeks flush with color.
Best of all, Drinky can hold his liquor, both figuratively and literally. Not only will he never become weepy or belligerent, every drink he takes is stored in the glass jar that makes up his body. The container is removable, giving you the option to drink that alcohol yourself later or pour it back into Drinky's cup.
Just be sure to keep an eye on the jar's level as the night goes on. Its capacity isn't limitless, and if you don't empty it the booze will start dribbling down Drinky's chin just like any human booze hound who's had one too many.
Finehope a full of vitality and creativity of the organic composite Hong Kong company, is based on the "green manufacturing technology and innovative talents for the development of the concept of enterprise. Corporate culture adhering to the "innovation, persistence, positive", the world today, we have to maintain the idea of innovation, and strive to make themselves better, more adapted to the pace of social progress, in order to achieve our goal, we have to keep trying again and again, until the end of success; we must have a positive attitude, we can keep the fruits of active.
Related news:
---
---