The WTO have concluded the biggest tariff-reduction deal in almost two decades
Dana 2015-12-23 17:55:41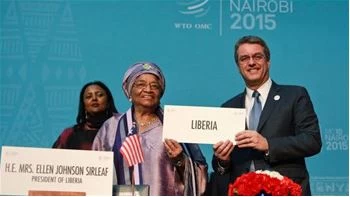 The World Trade Organisation have concluded the biggest tariff-reduction deal in almost two decades
More than 50 members of the World Trade Organisation have concluded the biggest tariff-reduction deal in almost two decades, eliminating restrictions on the $1.3tn trade of 201 IT products.
Yesterday's expansion of the 1996 Information Technology Agreement will increase global gross domestic product by $190bn a year, according to IT experts, as the costs are cut in trading goods from GPS devices and video game consoles to next-generation semiconductors.
Trade ministers said it would also help reinvigorate the WTO, which is deeply divided over its failure to break the years-long deadlock in negotiations over the 2001 Doha Development Agenda.
Many developed nations at the WTO's biennial conference in Nairobi this week have called for the DDA to be shelved or augmented to include new issues. Most developing nations want to retain the framework in a bid to secure more concessions from advanced economies, especially on agricultural subsidies.
Barriers will be eliminated in three stages under the expanded ITA. 65 per cent of the new tariff lines representing 88 per cent of imports will be cut immediately on implementation of the deal in July 2016.
Three years later, additional cuts will mean 89 per cent of tariff lines representing 95 per cent of imports will have been cut. The remaining tariffs will be eliminated by January 2024.
Roberto Azevêdo, director-general of the WTO, defended the staggered implementation of the deal, despite the fast pace of change in the IT industry. "The staging was part of the deal from the beginning," he said.
"In every single agreement you have to have flexibility enshrined in it or it's very difficult to strike a compromise."
Agreement on the 201 products to be included was reached in July, but the conclusion was delayed after China declined to submit its timeframe for phasing out selected products' tariffs.
Beijing finally submitted its list yesterday afternoon.
Although some important classes of products are not included, among them LED displays and lithium ion batteries, experts hailed the deal as a big breakthrough for multilateral trade negotiations.
Finehope a full of vitality and creativity of the organic composite Hong Kong company, is based on the "green manufacturing technology and innovative talents for the development of the concept of enterprise. Corporate culture adhering to the "innovation, persistence, positive", the world today, we have to maintain the idea of innovation, and strive to make themselves better, more adapted to the pace of social progress, in order to achieve our goal, we have to keep trying again and again, until the end of success; we must have a positive attitude, we can keep the fruits of active.
Related news:
---
---